NOVELS BY W.D. FROLICK
New York City Murders is a stand-alone sequel to W.D. Frolick's debut novel, The Cabin: A Murder Mystery, winner of a Literary Titan four star book award.
NYPD Homicide Detective Buck Woods returns to New York City from a six-month sabbatical. The time at his cabin on Pushaw Lake near his home town of Orono, Maine, was supposed to be a relaxing and stress-free vacation. It turned out to be the exact opposite of what Woods had envisioned.
On his first day back at the 52nd Precinct Buck is teamed up with a rookie partner, Kristie Karlsson, a beautiful woman in her late thirties. The two detectives are immediately attracted to one another, and sparks begin to fly.
Woods and Karlsson are assigned cases starting with the murder of an NYPD detective and the shooting of a famous actor. They encounter rival gangs in a turf war as they fight for control of the drug-infested streets of the Bronx. The two detectives are sent half-way around the world on a dangerous mission code-named EXTRACTION. They must find and bring to justice a devious escaped NYPD lieutenant charged with taking bribes and the murder of a detective under his supervision. The country harboring the escaped fugitive does not have an extradition treaty with the United States. If caught, Woods and Karlsson are on their own. The NYPD will deny operation EXTRACTION ever existed.
Filled with mystery and intrigue, New York City Murders will keep you on the edge of your seat turning pages until the unexpected climatic ending.   
Beta-reader Janet Barradas says: "New York City Murders is a gripping page-turning thriller filled with murder, mystery, suspense, intrigue, and an unexpected ending. I envision the novel being made into a movie and becoming a New York Times bestseller."
Beta-reader Norm Ryan says: "I started to read New York City Murders mid-afternoon and couldn't put it down until the last page was finished, after one a.m. the next morning. W.D. Frolick's best novel to date!"
Beta-reader Peggy McGrady said: Great story and a great ending. You are now committed to another Buck and Kristie novel. Their story needs to continue.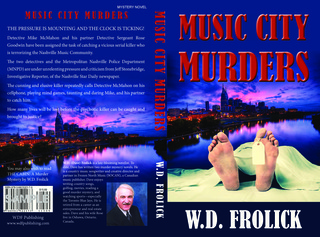 THE PRESSURE IS MOUNTING AND THE CLOCK IS TICKING!
Dectective Mike McMahon and his partner, Detective Sergeant Rose Goodwin, have been assigned the task of catching a vicious serial killer who is terrorizing the Nashville music community.

The two detectives and the Metropolitan Nashville Police Department(MNPD) are under unrelenting pressure and criticism from Jeff Stone, Investigative Reporter, of the Nashville Star Daily newspaper.

The cunning and elusive killer repeatedly calla Detective McMahon on his cell phone, playing mind games, taunting and daring Mike, and his partner to catch him.

How many lives will be lost before the psychotic killer can be caught and brought to justice?
Buck Woods, a stressed out NYPD homicide detective, and former Marine, takes a sabbatical and returns home to Orono, Maine to confront the demons from his past.

Upon arriving back in town, Buck meets up with his old high school buddy, Detective Jim Barkowsky, at the local watering hole, Kelly's Bar & Grill. Jim invites Buck to stay with him, his wife, and their two children.

The next morning Buck and Jim go to checkout Buck's new home, an old run down log cabin he inherited from his grandfather. The property is located on two acres of land on Pushaw Lake, just outside of Orono. Upon entering the cabin, they discover the decomposing body of an unidentified man. The victim died from a single gunshot wound. It is obvious that he was murdered.

Jim and Buck set out to solve the murder by putting the pieces of the puzzle together. Unexpected twists, turns, and obstacles abound leading to a climax that puts Buck's life on the line.